Short Course : Excel Advance Term 1 – 2023
02/15/2023

Posted by:

Divisi Training

Category:

Office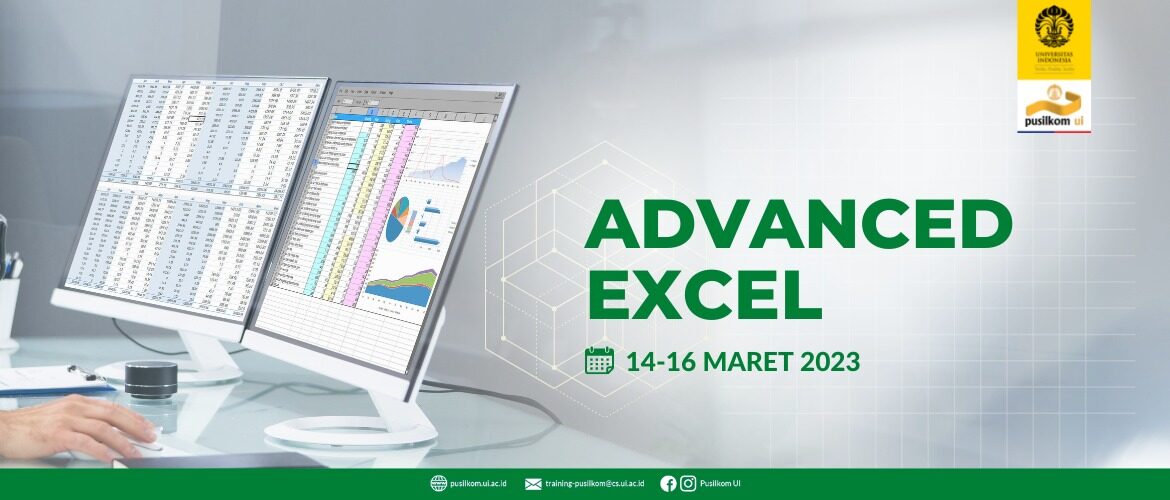 An advanced Excel training course is designed to help participants take their Excel skills to the next level. The course covers more advanced features and functions of Excel that are useful for data analysis, financial modeling, and other business applications.
In an advanced Excel training course, participants will learn how to work with large data sets, use advanced formulas and functions, create advanced charts and visualizations, automate tasks with macros and VBA, and perform complex data analysis using add-ins such as Solver, Analysis ToolPak, and PowerPivot.
The course will typically start with a review of the basics of Excel, including navigation, formatting, and basic formulas and functions. From there, the course will cover more advanced topics such as working with tables and pivot tables, using advanced functions like IFERROR, INDEX, MATCH, VLOOKUP, and HLOOKUP, and creating custom charts and graphs.
The course will also cover automation techniques such as recording and using macros and writing VBA code to automate tasks. Participants will learn how to perform optimization with the Solver add-in, use the Analysis ToolPak to perform complex data analysis, and analyze large data sets with the PowerPivot add-in.
Throughout the course, participants will work on hands-on exercises and real-world scenarios to reinforce their learning. They will also have the opportunity to ask questions and receive feedback from the instructor.
By the end of the course, participants will have a solid understanding of the advanced features and functions of Excel and will be able to apply their skills to real-world business scenarios. They will be able to work more efficiently and effectively with data and automate repetitive tasks to save time and increase productivity
Syllabus:
Hari 1:
Vlookup / HLookup.
Index and Match.
Nested VLookup.
Vlookup with Helper Column.
Hari 2:
Reverse Lookup using Choose Function.
Worksheet linking using Indirect.
Creating Smooth User Interface Using Lookup.
Hari 3:
Pivot Table
Advanced Pivot Table
Offline Fee : Rp. 3.000.000,- /person
(Free Tex)
Schedule

Term 1 : 14 -16 Maret 2023
Registration
Pendaftaran Untuk mengisi Form Pendaftaran melalui tautan berikut: https://s.id/Form-ExcelAdvance1-23
Information :
Untuk informasi lebih lanjut, dapat menghubungi Sekretariat Program Training Pusilkom UI
d.a. Gedung Pusilkom UI
Jl. Salemba Raya No.4 Jakarta Pusat 10430
atau Gedung C Fasilkom UI, Depok lantai 2 Ruang 3210
Hp / WA   : 0856 95305057
Email        : training-pusilkom@cs.ui.ac.id, s.mutia@cs.ui.ac.id,rika@cs.ui.ac.id
Facebook : Pusilkom UI